Central Vancouver Island, 2001 to 2006 Census Age Distribution
---
The 2006 census results showing the number of people by single year of age who are living in census subdivisions (municipalities such as Qualicum Beach and unorganized areas such as Nanaimo H) are available free on the internet on the Statistics Canada website at www.statcan.ca.
What does the change in the age distribution tell us about our communities? If we compare 2001 census results with the 2006 numbers, we see that the largest number of 'baby boomers', those born in the early nineteen sixties, have aged from their early to mid forties. The post war 'baby boom' came to an abrupt end in the mid to late nineteen sixties resulting in a rapid decline in births and a much lower number of people now in their late thirties and early forties. The baby echo, children born to the baby boomers peaked sixteen years ago, and these people are now moving into high school age. We are currently experiencing a time of far fewer young children in Canada.
Figure #1: Canada's Age Distribution, 2001 and 2006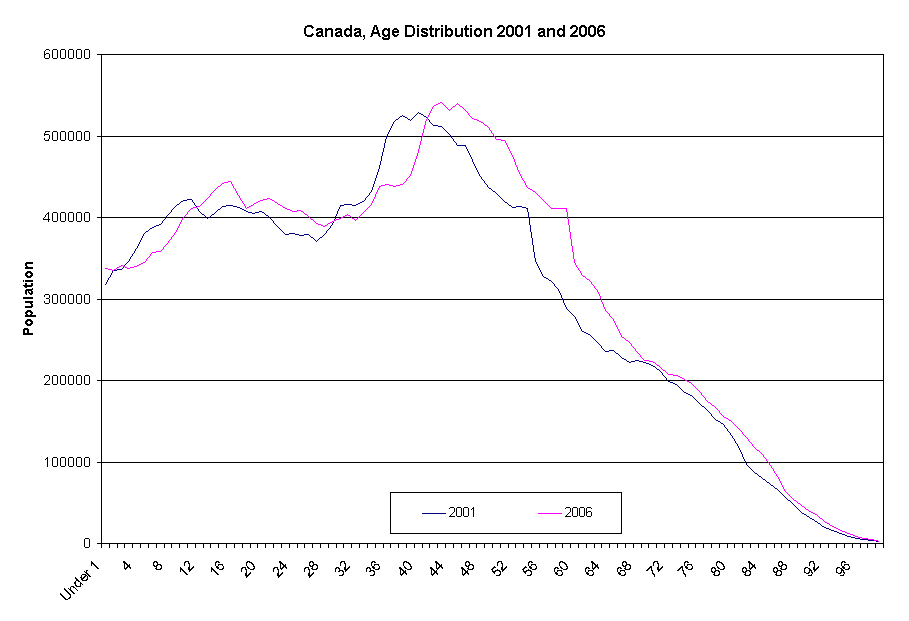 Source: Adapted from: Statistics Canada, 2001 and 2006 Census; Prepared by W.W. Munroe
Add to this oscillation in age distribution, the boom and bust nature of a resource based economy, and variations in migration for people of different age groups, Central Vancouver Island (made up of the Parksville and Courtenay Census Agglomerations) is far from a stable area in terms of population but rather can be best described as a dynamic, fluctuating, high turnover region.
Another way to look at possible trends in population change is to take out the influence of the oscillations in births by aging the population from 2001 by five years to compare the numbers with the 2006 census results. In this manner, the differences can be highlighted to show changes in the population due to migration. This 'signature' helps describe the character of an area.
Figure #2: Population Signature, Central Vancouver Island, 2001 to 2006
Source: Adapted from: Statistics Canada, 2001 and 2006 Census; Prepared by W.W. Munroe
Much of the fluctuation that we see in our communities in the Central East Coast of Vancouver Island is reflected in the difference between BC and Canada's signature from 2001 and 2006 (see Global and Local Population Change). BC has two distinct differences, there is 1) a larger proportion of out-migration for the 18 to 25 age group, and 2) a larger proportion of in-migration for the 55 to 65 age group, as seen in Figure #2.
Locally, these two features are further accentuated with a larger proportion of the 18 to 25 year olds leaving, as well as a larger proportion of retirees moving into the region.
With fewer young adults and the low fertility rate, as well as having a high median age, natural increase (births minus deaths) is negative. Indeed, migration contributes to the growth in the area's population as deaths increasingly exceed births.
While the number of people in their late teens and early twenties leaving exceeded those moving to the region by approximately 620 between 2001 and 2006, the region is attractive to families as indicated by the increase in in-migrants between 26 to 46 years of age and those 5 to 17 years of age. During this time period, over 2,000 more people in the 50 to 69 year old age group arrived than moved away. Death exceeds in-migration in accounting for the negative numbers for people over 70 years of age.
Projection: Between 2006 and 2011 net migration for people over 50 years of age should rise from 2,000 to closer to 3,000. If a bust follows the current boom (forecast to peak in 2008), there will likely be less in-migration and increased out-migration for the elderly as well as for families.
The changes in the age distribution impact public and private service delivery and facilities. By being aware of these dynamics, we are better able to have a finger on the pulse of our communities.
---
Source: Statistics Canada, 2001 and 2006 census, Age (123) and Sex (3) for the Population of Canada, Provinces, Territories, Census Metropolitan Areas and Census Agglomerations, 2001 and 2006 Censuses - 100% Data, Catalogue Number 97-551-XCB2006011.
---
Back to Top